BED & YOGA, BED & GOURMET BREAKFAST
in Paradise
Create the retreat of your dreams!
1 – 7 July 2022, Soller, MALLORCA
Looking for a little more independence and freedom to explore the island than a classic retreat might allow? Or traveling with a partner that might be a little less enthused about a yogic immersion than you?
Looking for a little more independence and freedom to explore the island than a classic retreat might allow? Or traveling with a partner that might be a little less enthused about a yogic immersion than you?
Create the retreat of your dreams!
This is your opportunity to simultaneously take your dream vacation and create your ideal wellness experience at the same time! We provide your peaceful accommodation, in our holistic haven of well-bing and include daily morning yoga along with a generous gourmet ayurvedic breakfast/ brunch and you choose how much or how little you would like to add to it. We will provide you with a list of additional onsite therapies, services and consultations that you can add if you so desire, as well as lots of tips on where to go and what to do to get the most out of your time on the island.
Prices starting at 145€pp per night in a Double Room & ranging from 225 – 295€ per night in a Single Room. Minimum 3 nights. -10% on 6 night stays. Details below.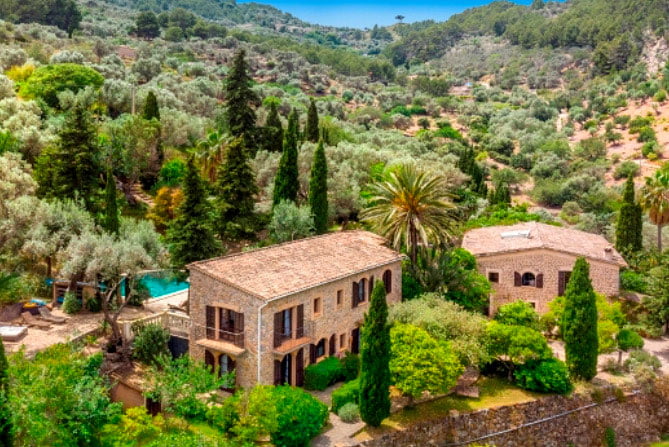 HIGHLIGHTS
Stays from 3-6 days
— Room of your choice, Double or Single, with private bath
— Daily yoga class – Vinyasa, Jivamukti, Yin, Meditation, Sound Baths
— Daily Gourmet Brunch prepared  in perfect harmony with the resplendent natural environment of the island – fresh organic products, local produce and herbs, exotic spices – transformed with flair into delicious harmonizing cusine
— Free time to relax and enjoy the heavenlty private gardens and saltwater pool at the finca as well time to explore the region with some of the most beautiful beaches & villages on the island in close proximity
— Optional enhancements : Massage – Reiki – Refloxology – Holistic Health Consultations – Cooking Classes – Additional Yoga Sessions – Excursions
Accommodations & Pricing
Double Room – Standard Twin – 2 twin beds with private bath : 145€ per person, per night.
Standard Single – Double bed with private bath : 225€ per night (single occupancy)
Deluxe Single – spacious junior suite with King or Queen bed & private bath : 295€ per night (single occupancy)
Luxury Poolside Apartment – 45m2, living room with separate bedroom, queen bed and private bath, terraces and views : 350€ per night (1 – 2 people)
For the Bespoke Summer session, from 1 – 7 July 2023 we are delighted to be welcoming the amazing teaching team, David & Danielle, of @DharmaPrana!
As students & teachers of yoga, David & Danielle are always learning, growing and expanding their boundaries. Through yoga, they believe in the constant evolution of self-discovery that sheds a light on making conscious choices for a brighter future. David & Danielle are passionate yoga teachers & teacher trainers who empower their students through dynamic and playful movement. Their classes are designed to increase strength & flexibility of body and mind creating a pathway to strong, unique & progressive peak pose sequences. David & Danielle have been teaching for over 10 years and as teacher trainers, they are passionate about embodied alignment, creative sequencing and the art of hands-on assists.
Inspired by their love of acro yoga and the many years of study with international teachers such as: Shiva Rae, Simon Park, Maty Ezraty, Noelle Connelly and Kate Duyn.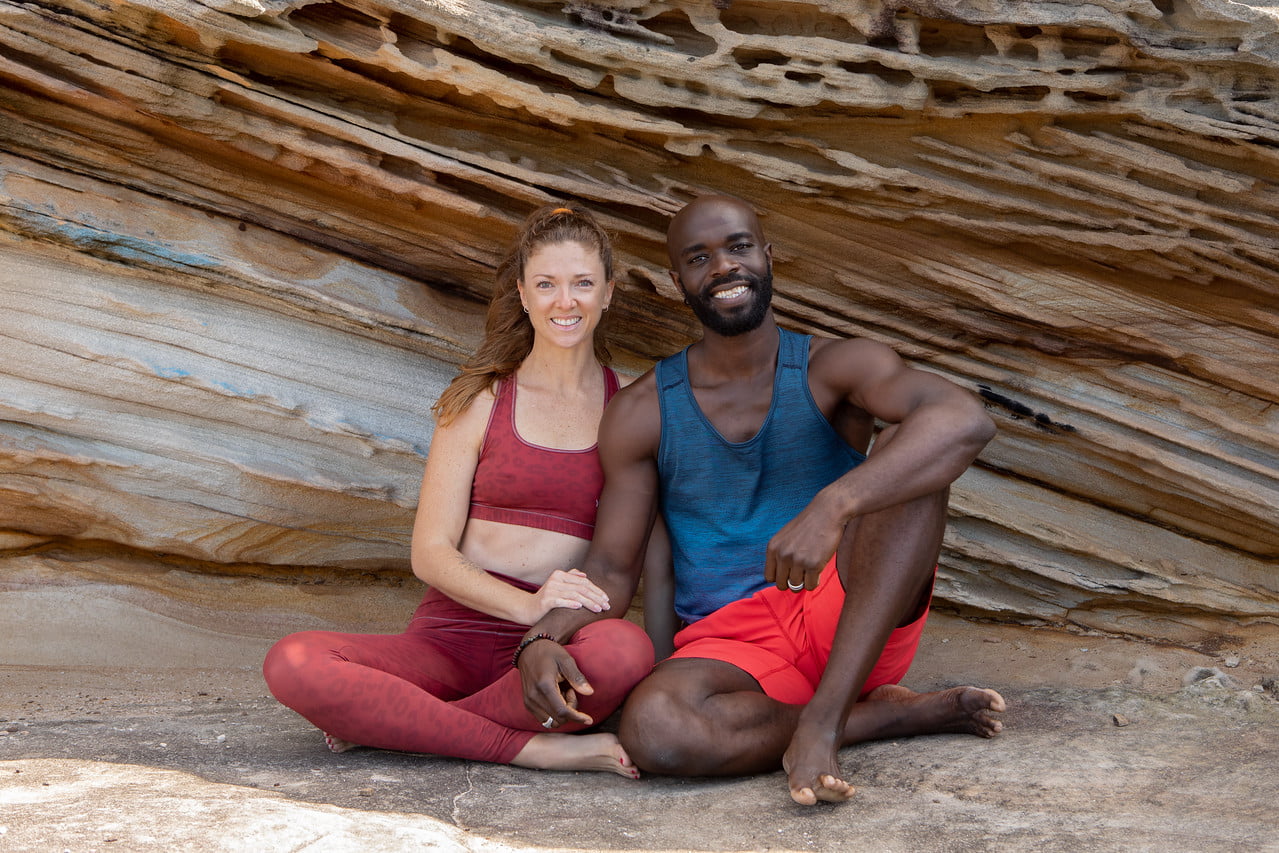 YOUR RETREAT HAVEN IN THE MAGICAL TRAMUNTANA MOUNTAINS – Sóller, Mallorca
Sóller is one of the island's most charming towns, situated on Mallorca's magnificent northwest coast in an area known as the Orange Valley or Valley of Gold because of the surrounding citrus orchards.
Nestled in mountains that are said to exude a very powerful energy and create a unique sense of calm, warmth and protection, Sóller consists of the vibrant Sóller Town with its magnificent main square Plaza de la Constitución with its impressive San Bartomeu cathedral, its modernist museum, and Baroque buildings and a weekly open air market.
A delightful mix of French influences, cobbled streets, sunny plazas, Gothic architecture, you can also take the historic tram down to the Puerto de Soller. Sóller Port, sits on one of the prettiest harbours, which white sand beaches and crystal waters. You will find a multitude of quaint restaurants, shops and cafés at the water's edge.
THE FINCA
Your island home is an Oasis of Peace: a 16th-century Finca situated on the outskirts of Sóller, a veritable natural sanctuary in the Tramuntana foothils surrounded by olive groves and citrus orchards.
Leaving the main road from Sóller in the direction of Deià, you drive down a
winding path through an olive grove, with its century-old, fascinating trees to arrive at the estate. Carefully renovated in 2019 the two16th- century mansions, traditonal mallorquin fincas, are full of character and original flair. They were originally built by a captain who had turned his back on the oceans. The mast of his last ship became the roof beam of the spacious reception area in his home.
In an elegant yet casual atmosphere of well-being, deeply immersed in a serene natural setting you will feel perfectly at home. After practice in the open air shala, as you lie by the turquoise pool, enjoying the beautiful Mediterranean garden landscape, you will hear only the bells of the sheep, the song of the birds and the gentle breeze in the trees. Paradise is truly at hand.
The 2 adjacent manors are surrounded by multiple terraces and peaceful and scenic outdoor seating areas, as well as the open air yoga shala, outdoor treatment space and a petancle court. In addition to the many beautiful indoor and outdoor spaces that are yours to enjoy, there are 8 spacious and tranquil guest rooms, furnished in natural tones with high-quality, beautiful furnishings, so that the eye and mind can rest. Each has its own private en-suite bath with unique character.
They have been appointed with the belief that true beauty is created when old things with soul can also be integrated with the comfort of the new, with all of the rooms contain a mix of recycled and upcycled, vintage and handmade items. You will also find high-quality bedding and linens, and ample storage space in each room.
You can come alone – in a private or shared room – or with a partner or friend, be as independent as you like and still get all the wellness benefits and the pleasure of being in a community of like-minded travelers.
TO RESERVE, & FOR ALL QUESTIONS OR REQUESTS FOR FURTHER INFORMATION:
Summer Open House
Yoga B&B on Mallorca
This is your opportunity to come and discover this sanctuary of well-being, at your own pace and according to your budget! Choose the length of your stay between 3 – 6 days.
Included:
– Room of your choice, Double or Single, with private bath
– Daily yoga class – Vinyasa, Jivamukti, Yin, Mediation, Sound Baths
– Daily Gourmet Brunch
– Luxuriant nautre & heavenly private gardens of the finca with a saltwater pool, open air shala for you to enjoy
– Free time to explore sea, beach, hiking, charming villages
Enhance your Experience with Personalised Options:
– Massages – Reiki – Reflexology – Holistic Health Consultations – Cooking classes- Additional Yoga Sessions – Excursions