Yoga & Nature Immersion Retreat with JENNIFER
7 nights / 8 days
8 – 15 July
2023
Soller, MALLORCA
"The Tramuntana mountains and Northwest coastal region of Mallorca is a place that is charged with a very unique transformational energy. One that for many years has held particular importance, and connected me to healing and guidance when I needed it most."

Jennifer
"The Tramuntana mountains and Northwest coastal region of Mallorca is a place that is charged with a very unique transformational energy. One that for many years has held particular importance, and connected me to healing and guidance when I needed it most."

Jennifer
BACK TO JOY
Surrounded by the aura of these magical mountains, near the rugged coastline between Deià & Sóller, deeply immersed in nature, beauty & tranquility, practice & community, come and elevate your vibration, clear your mind, restore your vitality and reconnect yourself back to the infinite source of light & joy within you.
Whether you are looking to restore your well-being and vitality at the deepest level, to make a change in your life, to find greater peace and purpose, or simply to disconnect to reconnect – everything you need will be on hand in Sóller !
HIGHLIGHTS
Spring: 6 nights / 7 days  Summer: 7 nights / 8 days
— Twice Daily Yoga & Mediation – Vinyasa – Jivamukti – Yin – Sound Healing – Mantra & Yoga Philosophy Exploration
— Extra Rich class offerings with the added participation of special guests
— Boat Excursion
— Guided Coastal Hike & Seaside Meditation – some of the most beautiful beaches on the island in close proximity
— An entire FREE DAY of Integration & Exploration
— Delicious and Revitalizing, High-vibe beautifully crafted eclectic plant-based cuisine with magical flavors prepared by international chef Sofia Sagripanti
DAY 1

15H – Welcome, Arrivals & Check-in
17H – Opening Circle
18H – Light Practice
19H30 – Welcome Dinner
DAYS 2 – 4 & 6 – 7
07H – Morning elixirs & tea, coffee, infusions, juice, fruit available
08H – Meditation and journaling
09H – Practice (Vinyasa / Jivamukti, with Mantra & Yoga philosophy)
10H30 – Brunch
11H30 – Free Time
17H30 – Evening practice (Yin & Sound Healing, Meditation, Workshops)
20H – Dinner
DAY 5 
Morning Practice & Brunch followed by a FREE DAY for Integration & Exploration. Dinner served at 8pm.
DAY 8
*8H – Optional Morning practice
9H30 Breakfast
11H30- Check-out & Departures
(Final schedule and times may vary)
YOUR TEACHER, GUIDE AND HOST: JENNIFER RUIZ GOUPIL
Born in New York, and arriving
in Paris by way of Los Angeles
in 1990, Jennifer has been
calling the City of Lights home
for over 25 years.
Founder of CAELO YOGA, Entreprenuer, a Certified Jivamukti (300HR), Vinyasa (300HR), and Yin (200HR) instructor, and Sound Healing practioner, with Jennifer East & West coast and European influences, along with both Mexican and American family origins, merge and give rise to a desire to create an atmosphere and an experience of yoga that generates warmth, sharing, connection, joy and love for students – like a family. Her classes reflect this same spirit and are
accessible to all levels, infused with yoga philosophy, mantra, (her passion!) dynamic Jivamutki sequences with eclectic playlists, or deep dives into the the gentler subtle body practices of Yin, Gong or other sacred Sound Healing instruments.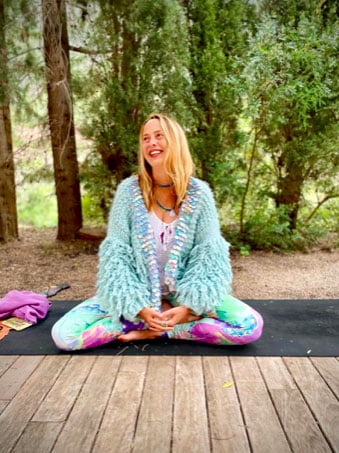 A life-long spiritual seeker with a zest for liviing, yoga entered her life in Paris in the late 1990's as she sought relief from chronic insomnia and the pressures of her corporate career and life as a big city-dwelling single mother. Prior to leaving the corporate world in 2007, Jennifer led a career for many years as an international marketing executive. Along the way and prior to opening CAELO YOGA Paris in January 2016, she also founded and operated an international wine company focused on small-producer, biodynamic French wines. In addition to a never-ending desire to deepen further her yoga and sound studies, Jennifer holds an MBA focused on International Marketing & Environmental Management, a Bachelor's Degree in International Relations and WSET Advanced Certification in
International Wine & Spirits.
While running CAELO and Essence Yoga Retreats, as well as teaching, play an
important part in her life, Jennifer considers herself above all to be a devoted student and inquisitive traveler on the path of yoga, continually seeking to further open heart and mind to the teachings. She is forever grateful to all of her teachers – human and otherwise – for their guidance support, at times trials, and inspiration.
Guru Brahma, Guru Vishnu, Guru Devo Maheswara, Guru Sakshat Param Brahma, Tasmai shri guruve namaha
YOUR RETREAT HAVEN IN THE MAGICAL TRAMUNTANA MOUNTAINS – Sóller, Mallorca
Sóller is one of the island's most charming towns, situated on Mallorca's magnificent northwest coast in an area known as the Orange Valley or Valley of Gold because of the surrounding citrus orchards.
Nestled in mountains that are said to exude a very powerful energy and create a unique sense of calm, warmth and protection, Sóller consists of the vibrant Sóller Town with its magnificent main square Plaza de la Constitución with its impressive San Bartomeu cathedral, its modernist museum, and Baroque buildings and a weekly open air market.
A delightful mix of French influences, cobbled streets, sunny plazas, Gothic architecture, you can also take the historic tram down to the Puerto de Soller. Sóller Port, sits on one of the prettiest harbours, which white sand beaches and crystal waters. You will find a multitude of quaint restaurants, shops and cafés at the water's edge.
THE FINCA
Your island home is an Oasis of Peace: a 16th-century Finca situated on the outskirts of Sóller, a veritable natural sanctuary in the Tramuntana foothils surrounded by olive groves and citrus orchards.
Leaving the main road from Sóller in the direction of Deià, you drive down a
winding path through an olive grove, with its century-old, fascinating trees to arrive at the estate. Carefully renovated in 2019 the two16th- century mansions, traditonal mallorquin fincas, are full of character and original flair. They were originally built by a captain who had turned his back on the oceans. The mast of his last ship became the roof beam of the spacious reception area in his home.
In an elegant yet casual atmosphere of well-being, deeply immersed in a serene natural setting you will feel perfectly at home. After practice in the open air shala, as you lie by the turquoise pool, enjoying the beautiful Mediterranean garden landscape, you will hear only the bells of the sheep, the song of the birds and the gentle breeze in the trees. Paradise is truly at hand.
The 2 adjacent manors are surrounded by multiple terraces and peaceful and scenic outdoor seating areas, as well as the open air yoga shala, outdoor treatment space and a petancle court. In addition to the many beautiful indoor and outdoor spaces that are yours to enjoy, there are 8 spacious and tranquil guest rooms, furnished in natural tones with high-quality, beautiful furnishings, so that the eye and mind can rest. Each has its own private en-suite bath with unique character.
They have been appointed with the belief that true beauty is created when old things with soul can also be integrated with the comfort of the new, with all of the rooms contain a mix of recycled and upcycled, vintage and handmade items. You will also find high-quality bedding and linens, and ample storage space in each room.
Bonus excursion:
on one of the afternoons, we will either:
(a) embark on a half-day boat trip to visit the beautiful calas of the North West coast, swim in the crystal-clear water, and immerse ourselves in the gorgeous Mediterranean nature and scenery, or (b) experience the breathtaking spectacle of the sun slowly descending into the horizon while enjoying drinks and refreshments over the course of a two-hour sunset cruise.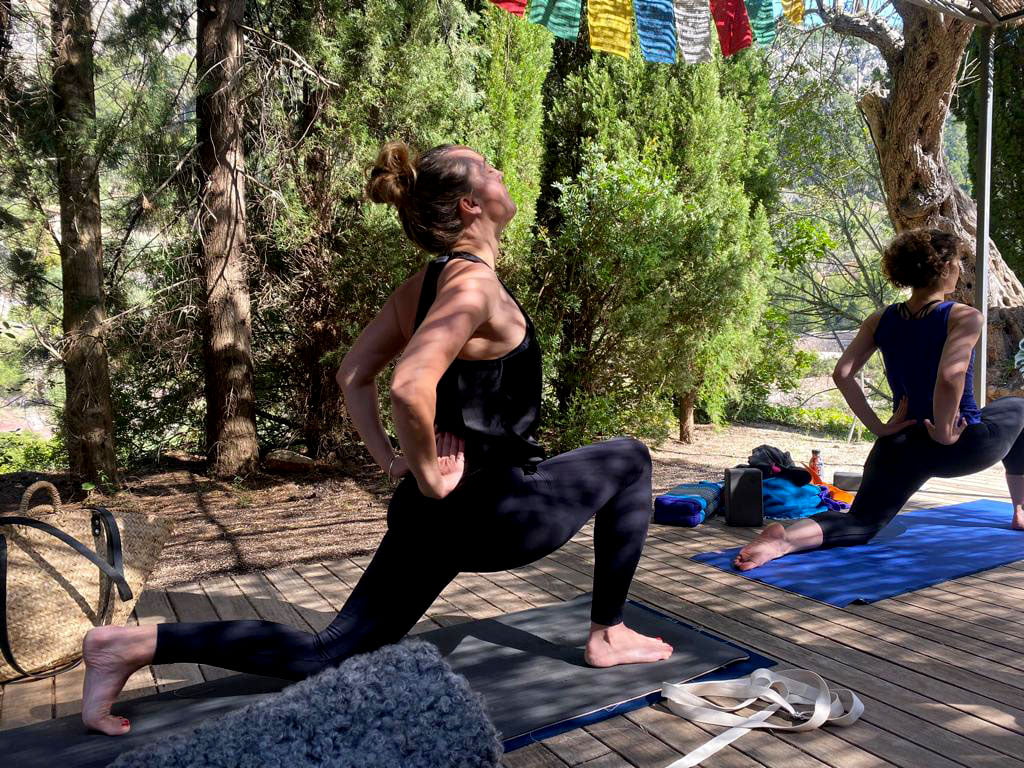 YOUR RETREAT CHEF: STÉPHANIE GUILLEMETTE … AND HER HEAVENLY CREATIONS
Stéphanie Guillemette
GETTING AROUND; THINGS TO DO

If you opt for a rental car, there is on site parking and you will have quick access to the main road leading to the delightful towns of Deia and Valldemossa and unique rocky coves and beaches such as Sa Calobra, Torrent de Pareis, or Cala Deià. Breathtaking, renowned hiking trails through the Tramuntana or along the coastline are accessible in just minutes from the front door. There are also bus lines to the same nearby beach locations.
GETTING THERE
Affordable direct flights from Paris to Palma de Mallorca are available, (the earlier you book, the more you save) – Transavia/ AirEuropa / Vueling / AirFrance-HOP. Upon arrival, you can get to the house either by bus, taxi, or rental car. Transfers are not included.
There are buses available from the Palma airport to Soller center from which the estate is a 10 minute taxi ride. Rentals cars are also widely available and we can put you in touch with others who may be on the same flight if you are interested in sharing transporation. Taxis are also available directly from the airport which is about a 35-40 drive to the finca.
TO RESERVE, & FOR ALL QUESTIONS OR REQUESTS FOR FURTHER INFORMATION:
I joined the Back to Joy retreat end of April 2022 …We were taken on a journey to rejuvenate our soul, mind and spirit and body, to come Back to Joy with Jennifer's excellent guidance through yoga & meditation & sound healing. Jennifer has this unique presence and I love how she teaches and shares her knowledge about Yin Chinese medicine, mixed with mantras and different forms of yoga and meditation and sound healing.
Another important part on the retreat was the food. Not only delicious and nourishing, it was also very beautiful presented. The schedule also offered a couple of free hours every day, which allowed you to discover this beautiful island on your own – or just relax by the swimming pool. Last but not least, It was very inspiring to get to know the other beautiful participants, we shared a lot of laughters and experiences. I left the retreat feeling rested, with a happy soul (and sore muscles ;)) , and I can't recommend you guys enough to join the next retreat available!
Absolutely loved the retreat. A beautiful oasis in an incredible location, filled with nourishing food and yoga for the soul!
The retreats facilitated by Jennifer are an exceptional moment of renewal. Everything is organized to live a bubble out of time in a magical place with practices that have beneficial effects in depth.
I attended the fabulous Mariella Fragano's Radiance Retreat in August 2022 and am going back in 2023 ☀️🙏🏼
I recommend 1000%
the framework
the island
the domain
the teacher
and of course Jennifer
Looking forward to 2023…
Paradise in the mountains near Soller!
In the fall of 2022, I attended an amazing retreat, "Back to Joy," with Jennifer. This villa is beautiful, with views over the mountains and the varied landscape plus a gorgeous pool. Beautiful hiking trails start right in front of the house.
The vegan food that Anastasia conjured up for us every day with local ingredients was incredibly varied and super yummy.
The yoga classes with Jennifer in the mornings and evenings were sometimes challenging but always adaptedto all levels.
There is something magical about this place for me, not only the place of the Yoga Shalla.
The house as well as the rooms are very tastefully furnished – a place to unwind and with the help of Yin & Yang Yoga to find "out of the mind and back into the body".

I stayed for 6 days at Essenca Yoga Retreats in October 2022 and had the best time. The Finca is absoultely stunning (mountain views, pool and nothing but peaceful), the food was incredible and Jennifer is a great host and yoga teacher. Very warm and welcoming. I'll definitely go back 🙂
Michelle, Paris/ Los Angeles
Thank you so much for creating a beautiful, inspiring , active, supportive, relaxing, spiritual, accepting, loving, healthy, painlessly detoxing and delicious retreat!! This was my 4th yoga retreat and by very far the best! Wonderful classes and meditations, Jennifer, and a fabulous Finca.
Jennifer is truly a holistic leader, she has managed to organise and create a wonderful retreat with great intentions in a purposeful setting: the Island of Mallorca. Her experience and her dedication to yoga and wellness is truly reflected in the way she teaches and her choices regarding the structure of the retreat and its development. As well as getting daily guided yoga practices, we had the freedom to explore the island, sometimes in her company which enabled us to connect as a group and as yogis. This made us feel part of the community and we surely hope to stay in touch. And the quality of the classes and the mantras selected for each one enhanced the feeling of belonging and our ability to reconnect with our inner selves and expand our practice on a spiritual level.
Victoria, Stockholm, Sweden
Everything resonated so much with me and the retreat was exactly what I needed.
Jennifer, you were a highlight, leading this self exploration / spiritual journey while keeping a grounded energy and you made us feel so welcome ! The location was a big highlight as well, it felt like an enchanted bubble. And last but not least Masha was absolutely incredible, her food was so creative and delicious. We were so well taken care of from start to finish!
I highly recommend this retreat, it allowed me to open a parenthesis, to find what makes me really happy: meditating, writing in a journal, doing yoga, eating, laughing, discovering, meeting, hiking, and just breathing.
The place is magical, Jennifer takes great care and her yoga practices are just right. It was a great time, I already want to go back. To do without hesitation ;)!
ACCOMMODATIONS & PRICES – Hébergement et Prix
In addition to the many beautiful indoor and outdoor spaces that are yours to enjoy, there are 8 spacious and tranquil guest rooms, furnished in natural tones with high-quality, beautiful furnishings, so that the eye and mind can rest. Each has its own private en-suite bath with unique character.
They have been appointed with the belief that true beauty is created when old things with soul can also be integrated with the comfort of the new, with all of the rooms contain a mix of recycled and upcycled, vintage and handmade items. You will also find high-quality bedding and linens, and ample storage space in each room.
All room prices are per person. Included in the price:
Twice Daily Yoga & Meditation – morning and late afternoon – Vinyasa, Jivamukti, Yin, Sound Healing, Chakra Voice Medicine, Mantra & Yoga Philosophy exploration

Early morning – Special Morning Elixirs + tea, coffee, juice and fruit are available prior to practice if desired

A generous Brunch + Dinner daily (to leave your afternoon free).

The




Mediterranean and regionally inspired, revitalizing plant-based cuisine, with locally sourced organic products prepared renowned international chef Sofia Sagripantiis as beautiful as it is delicious.

The theme of joy will extend to your plate!

A late-afternoon delicious pre-practice snack

The entire estate is privatized and includes many beautiful outdoor areas and a pool that are yours to enjoy
Not included:
Flights & transfers from the Palma de Mallorca airport to the retreat site in Sóller. See details below for transportation options.
Single Rooms / Chambres Seules:
– Standard Single (Double Bed, Private Bath) – 1975€
– Deluxe Single (Extra Spacious, King Bed, Private Bath) – 2350€
7 nights / 8 days
Double Rooms/ Chambres Partagées:
– Standard Twin (2 Twin Beds, Private Bath) – 1550€ pp
– Deluxe Double (Extra Spacious, King Bed, Private Bath) – 1400€ pp
Luxury Poolside Suite
(45m2, separate bedroom with Queen bed, Living room with single bed and sofa bed, terraces).
This accomodation can be shared by 2 – 3 people. Must be booked together, price is for the room – 3450€ (1150 – 1225€pp)